Tyler McCall – Artist Spotlight Mantra Tattoo
For our next artist spotlight, we would like to highlight the work of one of our latest additions, Tyler McCall. Tyler has been tattooing for 2.5 years but brings an aesthetic that shines with a deep wisdom and understanding well beyond his years. Even though his beginnings were humble, having mentors like Aries Rising, Clay McCann, and Jessie Ellerbe has helped him hone his craft into what you see today. His specialties are illustrative black and gray/sacred geometry and a hint of neo-trad tattoos. Let's check out some of his recent work!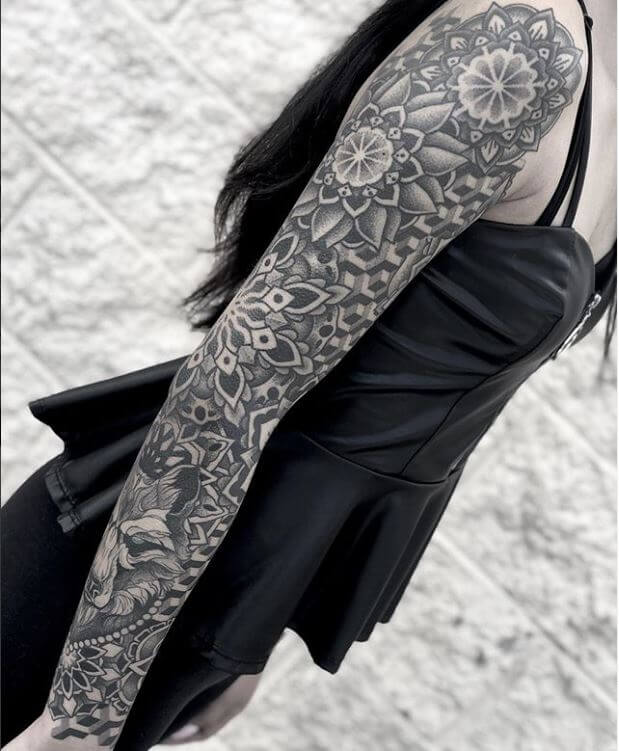 This sleeve is a stunning example of Tylers strong suits. Classic black and grey geometric patterns with stippling.
The incorporation of the wolf adds an element of toughness to the natural geometric patterns, reminding us that we are all part of one whole, in nature.
This lotus flower and eye tattoo can symbolize many things, but mostly a deep representation of the human condition and spirituality. The lotus grows with its roots in the muddiest waters, yet produces one of the most beautiful flowers. In eastern religion, it symbolizes purity, enlightenment, self-regeneration and rebirth.
–
The Anubis representation in tattooing often represents the Egyptian dog-headed dog of the dead. Anubis was the god tasked with watching over souls who have passed on to the afterlife.
Whatever your inspiration is behind your tattoo desires, Tyler is the perfect fit if you're looking for bold, dynamic art.
If you are looking to book a consultation with Tyler, you can email him at [email protected]
At Mantra Tattoo, we have a team of amazing tattoo artists that can help you get the design to suit your personality and individuality. Check their tattoo portfolio to get inspired. You can also come down to the shop to speak with one of our artists and get your new tattoo started today! The shop is open every day and we welcome walk-ins.
– Instagram: @mantratattoo  @tallmccall
@dazzlefritz @over.n.out.arts @doublescribbles @bengun @timothykidd @piercings_by_coryclinton
@outer_one @gentlejenmantra @artofyaws